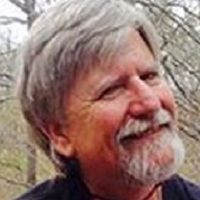 David W. Thompson
Supernatural Suspense, Historical Fiction, Fantasy, Horror
The author is a native of Southern Maryland, and a graduate of University of Maryland, University College. Prior to retirement from a position with a major Aerospace Corporation, he tried his hand at a variety of occupations- from grocery store clerk to warehousing, from shoveling coal to a four year stint with the U.S. Army. When he isn't writing, he enjoys time with his family and grandchildren, kayaking (mostly flat water please), fishing, hiking, hunting, wine-making, and pursuing his other "creative passion"- woodcarving.
After his family and cheesecake, reading was his first love. It exposed him to people, cultures and ideas he'd never experience otherwise. Writing was a natural extension of this "out of body" experience as characters carved little niches in his mind- showing their worlds, and their possibilities. He hopes to honestly convey the stories they whisper in his ears.
Some books are to be tasted, others to be swallowed, and some few to be chewed and digested.
Francis Bacon